The new best burgers in NYC
A big, fat, juicy burger never goes out of style. We've rounded up the 21 most delicious offerings in the city right now, and we've also crowned a new winner for the top spot. Click through to find out which restaurant now boasts the absolute best burger in the city.
Editors' essentials
Collier Sutter
Associate Things To Do Editor
@sutterbugg
Eat
Considering the line outside Fan-Fan Doughnuts reached amusement park levels by 10am on its opening day last weekend, doughnuts are officially an acceptable form of breakfast and that's that. Try the tart "La Donna '' with raspberry-black currant. It gave me something close to roller coaster thrills but in glaze form.
Drink
Sitting in Palmetto BK's banquet seating feels like a day at a seaside spa in the middle of Bushwick. With bright white walls, palm-tree-filled murals, hanging plants and a record player spinning at all times—the laid-back atmosphere is a welcome respite. Try the Jakarta-Colada for an escape from colder days.
Do
This upcoming week is Independent Venue Week, and you can head to Ridgewood music venue Trans-Pecos to hang in their backyard for five nights of fundraising for NYC clubs. Each night, they'll project just-recorded gigs from Baby's All Right, Sultan Room, Purgatory, The Broadway and Our Wicked Lady. All donations go to that venue's out-of-work-staff.
paid content
Check out these local spots
"I'll have what they're having!"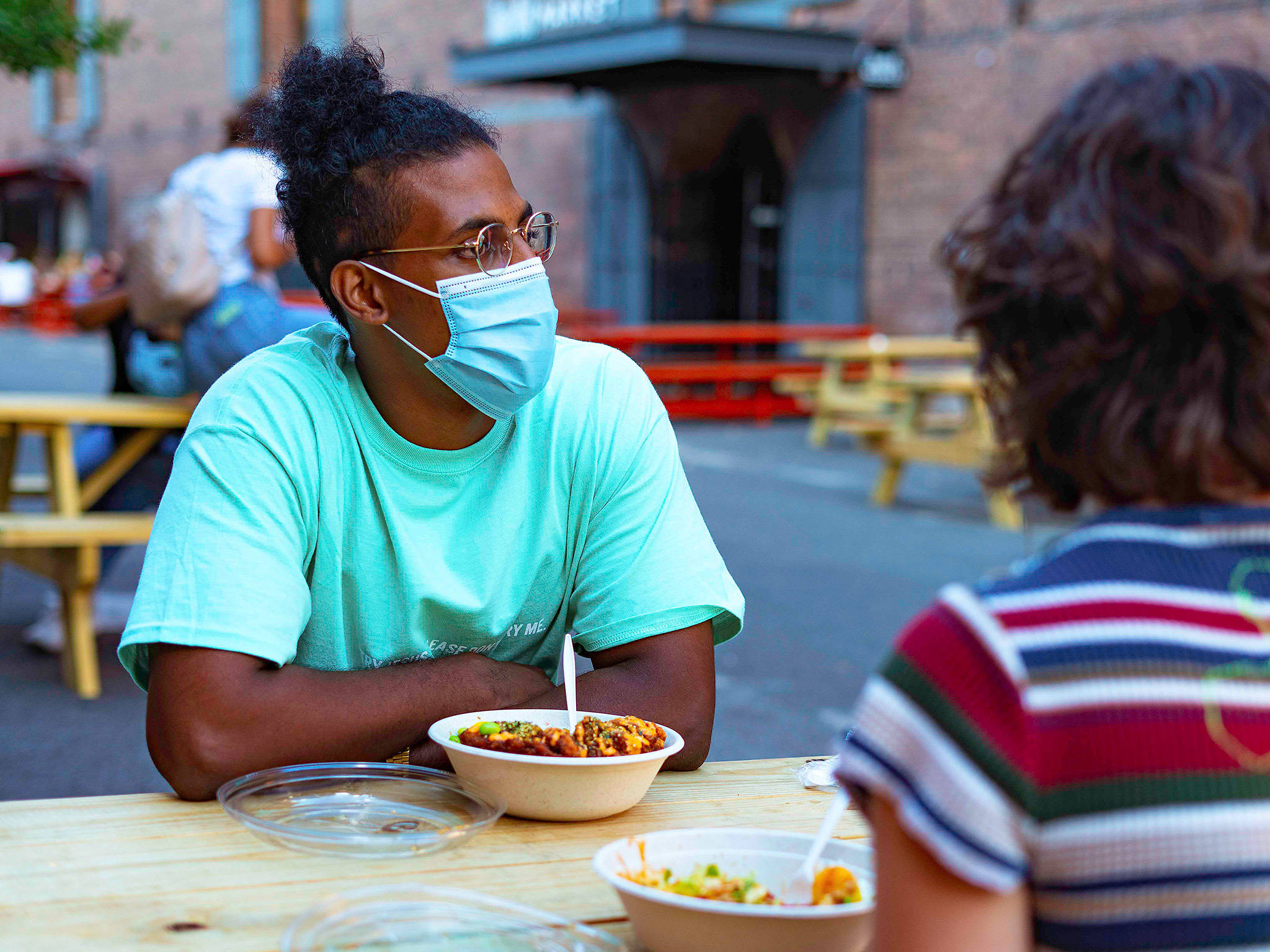 Tajah, 28, Jamaica, Queens
Eating: Fried Chicken Karaage from Bessou

In this weekly series, we check in with visitors to Time Out Market New York to get their thoughts on the city's buzziest topics—from how we're working now to riding public transit and making the most of a rapidly changing city.

Where do you work in the city?
I work at a gym which has been interesting. People mostly wear their masks, but I've had to tell a couple people repeatedly to put them on. The rules are pretty clear. We have to check people in and out now, but we've never come close to hitting capacity.

Do you think New York is on the rebound?
It's definitely not dead. I think people are just scared right now, and I think eventually people will be less and less scared. People just need to interact with each other more. When you're walking down the street just make eye contact and say hi!

What's one positive change you're incorporated into your life recently?
I've made an effort to realize that I'm very small in the world. There's a lot going on now, and a lot that will go on after me. I think that's the biggest thing for me—that perspective.
Showcasing the best shots of NYC—straight from you!
Stopped by my favorite Halloween-decorated house yesterday 🕸🕷💀
📷sincerelymaureen
Visit @timeoutnewyork for more great pics!
The 20 people, places and things creating a better NYC right now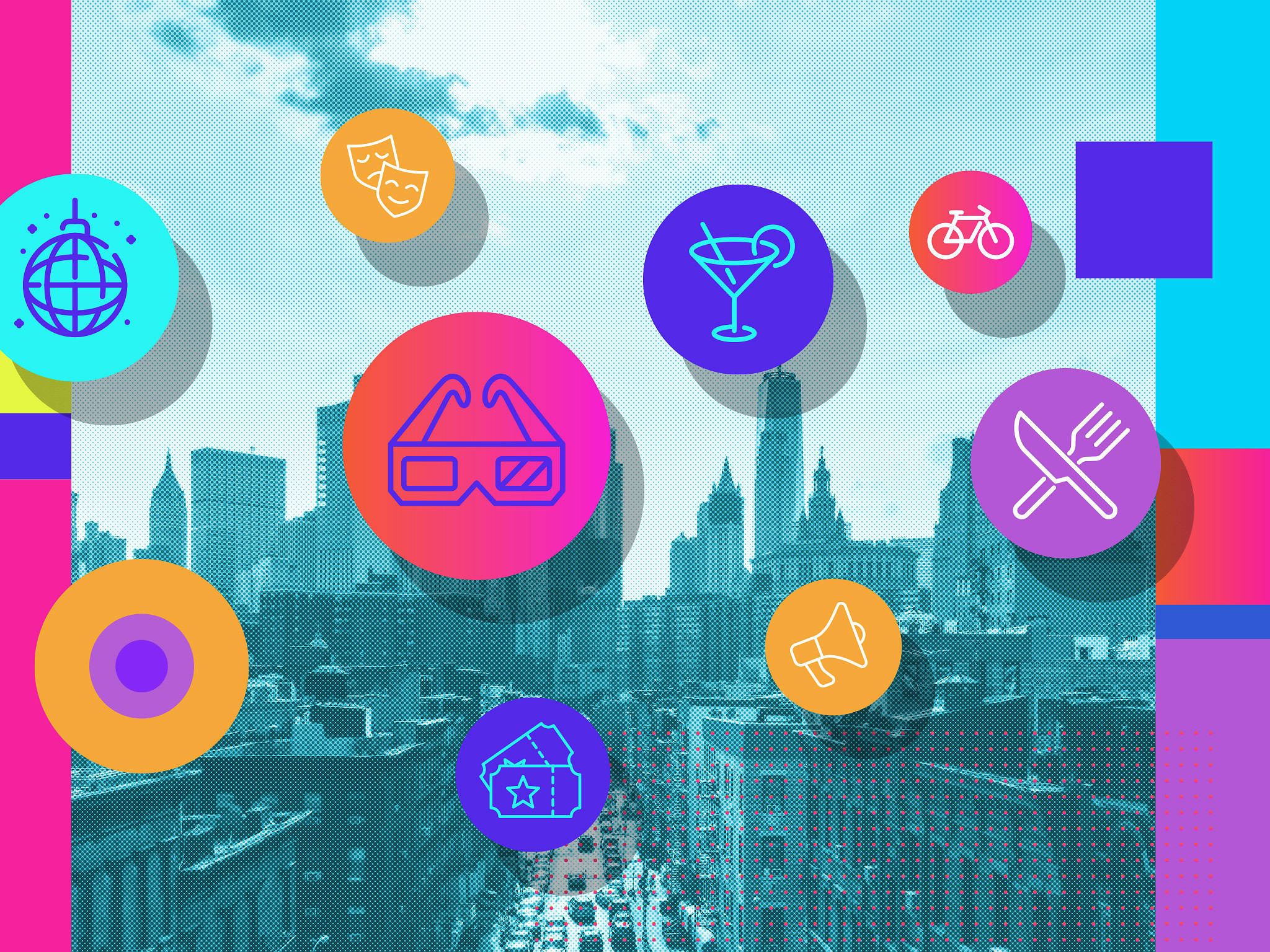 New York has undergone a seismic transformation over the last year. While that's created plenty of serious challenges, it's also allowed some brilliant new ideas to thrive. From mind-boggling floating parks to virtual art and astonishing entrepreneurs, we've rounded up 20 people, places and things fashioning a better future for the city now.
This new service only delivers dumplings
If you really think about it, is there anything you need to have delivered more than dumplings? They usually solve most of our problems! A new service has turned that dream into a reality, allowing New Yorkers to have some of the city's best dumplings delivered right to their doorsteps.