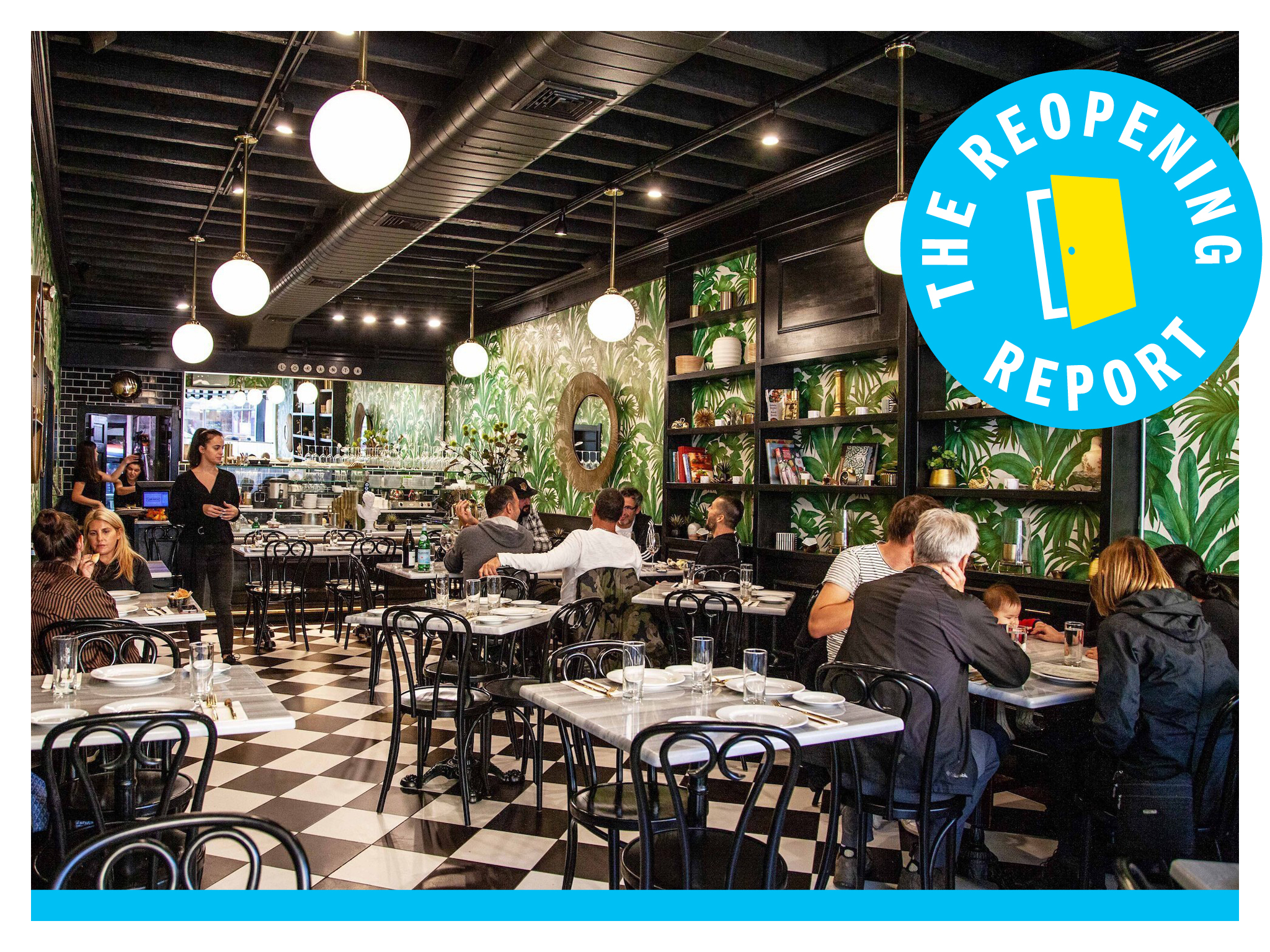 Indoor dining is back!
Diners can now eat inside at restaurants for the first time since March! We spoke with members of the industry to see how they've adapted to the new normal. "I think 25 percent is totally not sustainable for restaurants," says Jon Neidich, CEO of Golden Age Hospitality. "It's a good step forward, but I think additional relief is still going to be necessary." Click through for more takes on the return to eating inside.
Eat
Klong is my go-to Thai place in Manhattan. Happy hour is long and cheap ($6) and the food is stellar. You can't go wrong with the pad kee mao and the tasty apps which are mostly under $8.
Drink
Sek'end Sun, which finally reopened Wednesday, is back with its bomb drinks like the refreshing "staycation" (made with vodka, pineapple, cucumber, lemon and sugar) and its brunch menu mimosa flight for $10. The breezy eatery has a cute back patio perfect for imbibing.
Do
Take in live string music at Vale Park (on Fridays and Sundays) or catch dinner and a movie there (on Thursdays) though October. These events scratch my theater itch in a fun and safe way.
paid content
Check out these local spots
this weekend
Looking for authentic Philippine cuisine?
The sizzling sisig and other fall classics are back on the menu at Tsismis
It's officially ramen season!
Head to Strings Ramen and slurp up and stay warm on those chilly fall nights
"I'll have what they're having!"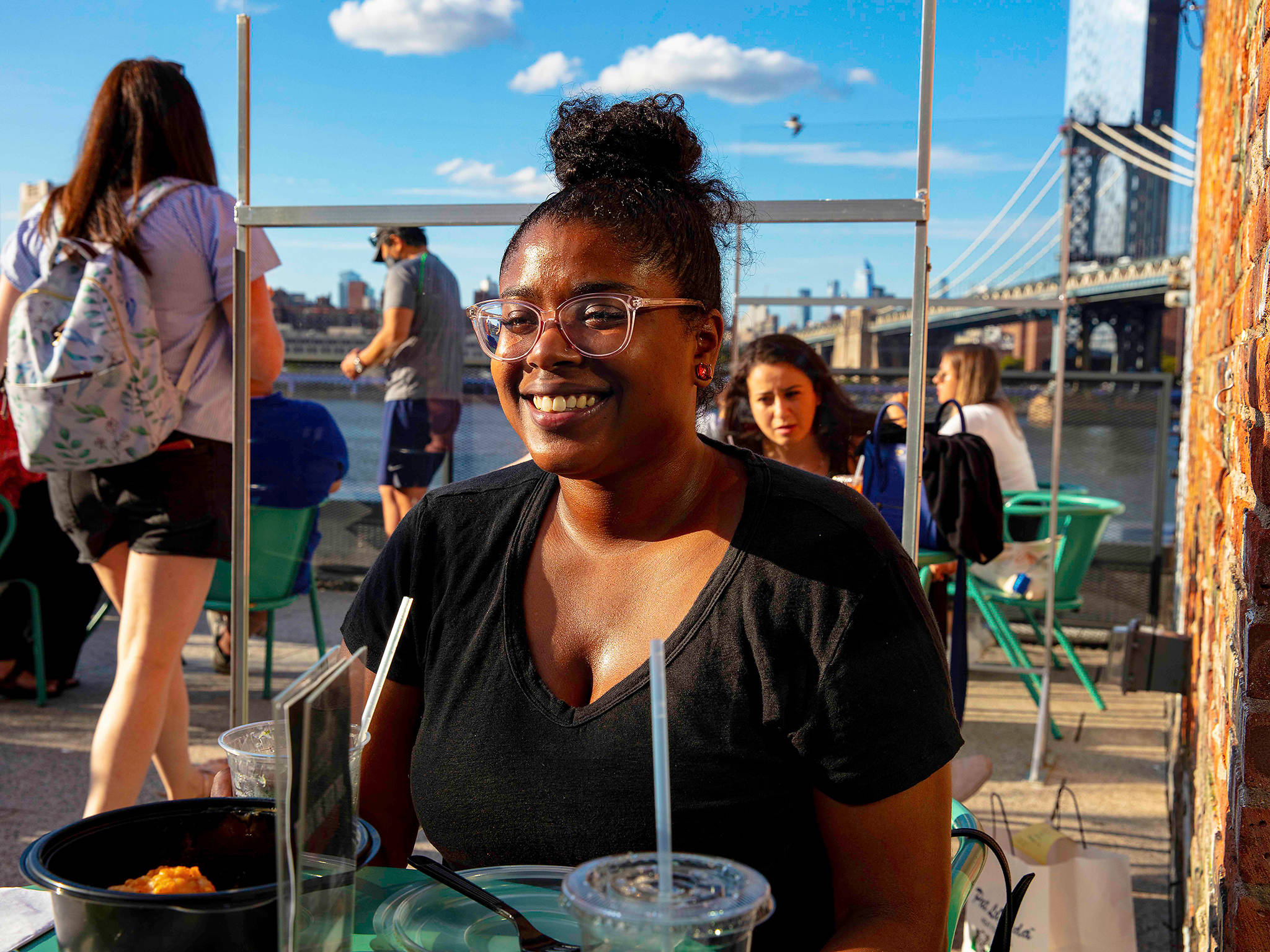 Alexandra, 29, Brownsville
Eating: A Buffalo Chicken Mac and Cheese from Jacob's Pickles

We're checking in with visitors to Time Out Market New York to get their opinions on the city's buzziest topics—from returning to offices and riding public transit to the best things they've done in the city lately.

How have you been getting around the city?
There's this new Revel scooter thing that's pretty cool. They were banned for awhile but just came back last week. They have a hub by my house, so that's how I found out about it. But that's what I've been doing. I'm a little scared of it, I'm not gonna lie.

Are you going back to the office soon?
Yeah, our office reopens on October 1. I work in DUMBO not that far from here. I'm not that excited. I feel more productive at home, to be honest, but I think that it's going to be good to get a different environment for everybody and see how we kind of adjust to it. So let's see what happens.

Do you think New York is dead?
I think it's coming back alive. I think we're having a resurgence. There's so much that they're building up. I was born and raised in Brooklyn, so it's nice to see how much it's changed. It feels more welcoming now in a way.
Showcasing the best shots of NYC—straight from you!
Visit @timeoutnewyork for more great pics!
New rooftops to have on your radar
This new rooftop whiskey lounge opens tonight
Located on a sixth-floor penthouse in Greenwich Village, o.d.o. by ODO is a private whiskey lounge that pops up once a week on Thursday nights. The lounge is open 6-11pm with each seating lasting two hours max. A collection of rare Japanese whiskeys from the House of Suntory, including some from Odo's personal collection, will be served with small bites like a whiskey raisin butter sandwich and sweet potato-and-fava-bean fried cookies.
A sweet new honey-themed rooftop restaurant
Eataly NYC Flatiron's seasonal rooftop Serra by Birreria transformed into Serra D'Autunno this week with a honey and harvest theme that oozes with local and Italian honeys. The honey theme touches every part of the restaurant, from the creative decor to a menu focused on local ingredients as well as Italian specialties. From antipasti (a roasted honeynut squash is finished with house-made Stracciatella cheese, hazelnuts and honeysuckle honey) to main dishes (a shareable portion of braised pork shank that's glazed in Italian honey), there's no part of the menu left behind.